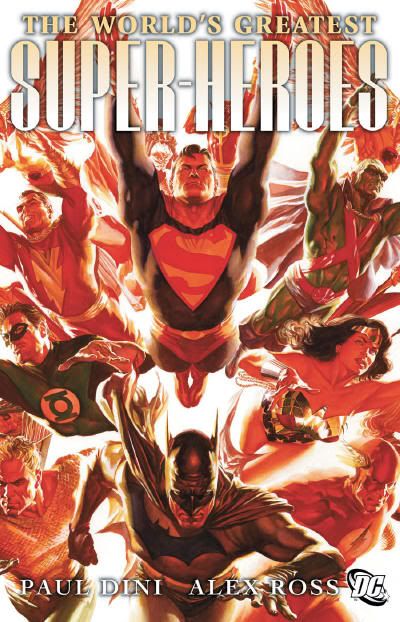 THE WORLD'S GREATEST SUPER-HEROES TP
Written by PAUL DINI
Art and cover by ALEX ROSS
Between 1998 and 2003, Paul Dini, the Emmy Award-winning producer of Batman Beyond and The New Batman/Superman Adventures, joined forces with superstar illustrator Alex Ross (KINGDOM COME) to create six original graphic novels starring The World's Greatest Super-Heroes:
• SUPERMAN: PEACE ON EARTH
• BATMAN: WAR ON CRIME
• SHAZAM!: POWER OF HOPE
• WONDER WOMAN: SPIRIT OF TRUTH
• JLA: SECRET ORIGINS
• JLA: LIBERTY AND JUSTICE
Now, all six of these classic works are back in a new trade paperback that includes developmental art and more.
On sale SEPTEMBER 15 • 8.125"x11" • 400 pg FC, $29.99 US
Pretty much everyone on the team that's white appears in this book, minus Steel and Gypsy, the latter always being vaguely ethnic. Not that I'm insinuating anything...
AQUAMAN & MARTIAN MANHUNTER
BRIGHTEST DAY #7-8
Written by GEOFF JOHNS & PETER J. TOMASI
Art by IVAN REIS, PATRICK GLEASON, ARDIAN SYAF, SCOTT CLARK & JOE PRADO
Cover by DAVID FINCH
1:10 White Lantern Variant covers by RYAN SOOK, FERNANDO PASARIN & JOEL GOMEZ

Don't miss the hottest event in comics as BRIGHTEST DAY continues!
There can be only one who wields the White Lantern...but is it truly Deadman? And what will happen when he attempts to charge the white ring? Meanwhile, Ronnie Raymond risks everything for Firestorm, Martian Manhunter uncovers more clues about the bizarre string of murders stretching across the country, Aquaman searches for the key to the ocean's survival and the Hawks come face-to-face with the evil that lurks within the strange land known only as Hawkworld!

Retailers please note: These issues will ship with two covers each. Please see the Previews Order Form for more information.
Issue #7 on sale AUGUST 4 • Issue #8 on sale AUGUST 18 • 32 pg, FC, $2.99 US
CITIZEN STEEL
JSA ALL-STARS #9
Written by MATTHEW STURGES
Co-feature written by JEN VAN METER
Art and cover by FREDDIE WILLIAMS II
Co-feature art by TRAVIS MOORE & DAN GREEN
The gods seem to be inside the minds of the All-Stars, which is only their first step toward reemerging on Earth. The takeover splits the team up as they try preventing the return of these ancient mysteries on two fronts – in the jungles of Parador and on the mean streets of Los Angeles!
Also, in the co-feature: Hourman is forced to do something he swore he'd never do again – all in an effort to save the villains Tigress and the Icicle!
On sale AUGUST 4 • 40 pg, FC, $3.99 US
ELONGATED MAN
THE FLASH CHRONICLES VOL. 2 TP
Written by JOHN BROOME • Art by CARMINE INFANTINO, JOE GIELLA, FRANK GIACOIA & MURPHY ANDERSON
Cover by CARMINE INFANTINO & MURPHY ANDERSON
In this second volume, Barry Allen's rogues gallery expands with the addition of Gorilla Grodd, the Mirror Master and the Weather Wizard, plus the debuts of Kid Flash and the Elongated Man! Collecting THE FLASH #107-112.
On sale SEPTEMBER 29 • 160 pg, FC, $14.99 US
ZATANNA
ZATANNA #4
Written by PAUL DINI
Art by CHAD HARDIN & WAYNE FAUCHER
Cover by STEPHANE ROUX
1:10 Variant cover by BRIAN BOLLAND
Zatanna loves Vegas, and Vegas loves her – but should Zee be wary of the attentions of a handsome, well-connected casino owner? She can hold her own against the most ridiculous Royal Flush Gang ever assembled, and she can just about cope with her cousin Zachary's immature antics, but she'd better watch out for the sultry fire demons that are hot on her heels!
Retailers please note: This issue will ship with two covers. See the Previews Order Form for more information.
On sale AUGUST 11 • 32 pg, FC, $2.99 US